Warehousing
Services - Northern Arizona Courier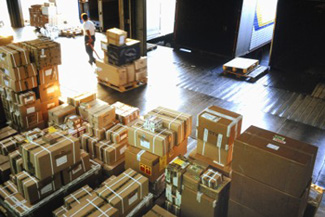 Many companies in other areas are realizing the advantages of a strategically placed warehouse in Northern Arizona where they can safely store their goods. This can provide logistical solutions to meeting the demands of just-in-time inventory requirements, streamlining the use of a company's delivery personnel and maximizing production runs. Companies benefit from using our Northern Arizona warehousing services to have their goods ready and waiting to be delivered as needed or when scheduled.
Warehousing improves efficiency. Businesses that distribute goods throughout Northern Arizona regularly use our warehousing service to provide a one-drop location, freeing their drivers to return for additional loads and leaving the distribution of deliveries throughout the region to us.
Warehousing improves customer service. Computer component companies in other cities use our warehouse to store replacement computer parts. When their customer's computer equipment in our delivery region is in need of repair, the needed parts are immediately available locally.
Northern Arizona Courier provides first class storage, fully bonded and insured, with 24-hour availability.
Contact us for quotes on warehousing services
Northern Arizona Courier
We're there, when and where you need us!
Call: (928) 526-7717
Fax: (928) 526-7716
Email: KennySmith@nacourier.com